Streamline your Field Service Operations with ServiceDeck
ServiceDeck is here to help businesses of all sizes manage their field service operations more efficiently and effectively. Streamline your
scheduling

dispatching

invoicing

team management

quotation

inventory management

worker availability management
from one easy-to-use platform!
Schedule Your Free Demo Now!
More efficient workload distribution and scheduling
Jobs completed by service providers
Better customer experience by using ServiceDeck
Improvement in quotation and invoicing speed
Why Choose ServiceDeck for Your  Field Service Management Needs?
Drag and drop calendar to help you visualize your company's daily workload
With only a few clicks, create a job and assign it to your team based on their availability
Enhanced Smart Scheduling that takes into account your employee's unique availability, time off, and daily breaks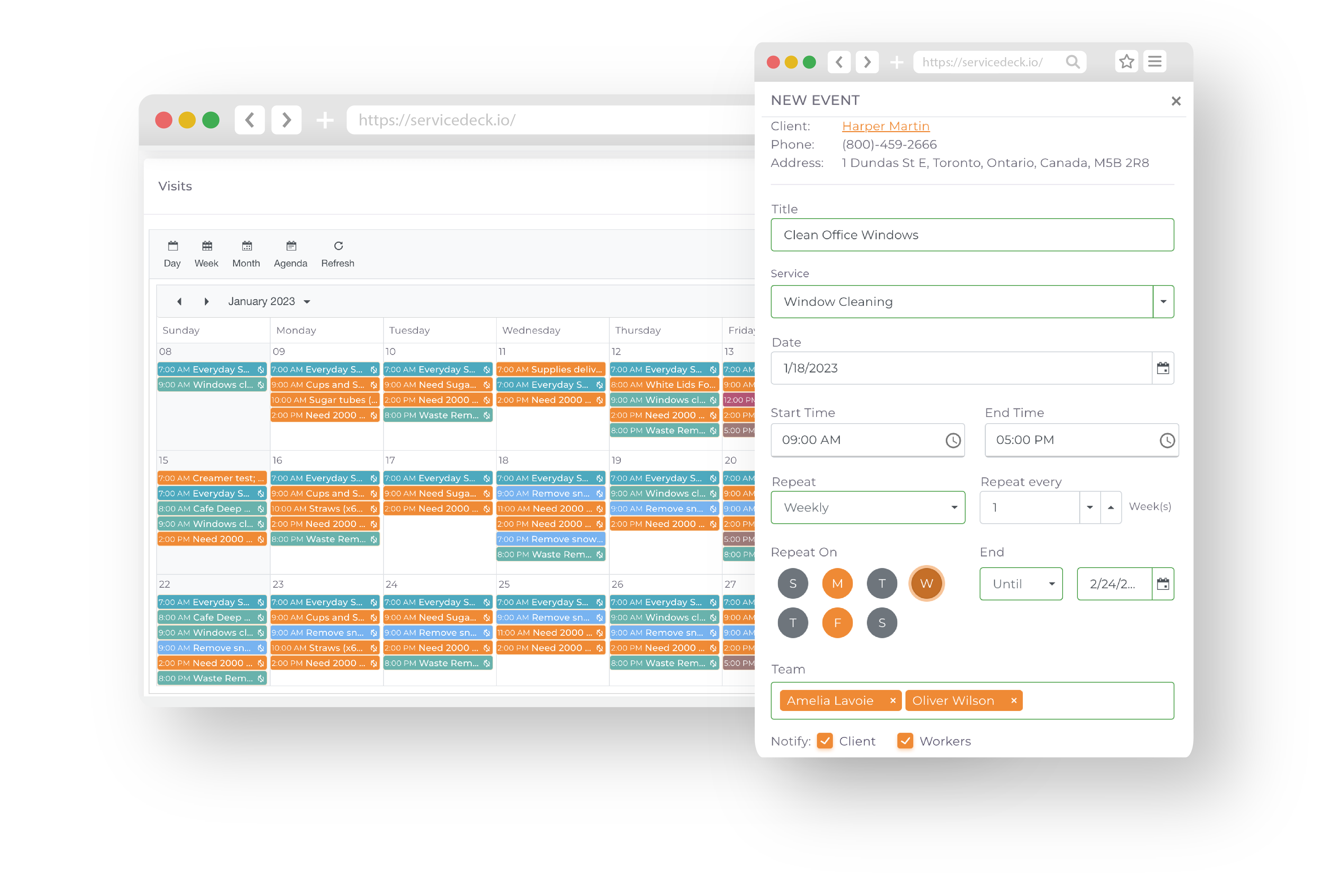 Create quotes within seconds by adding the items & services from your inventory
Send the quotes directly from the system, approve and convert to a job with one click
Seamless Invoicing with comprehensive inventory management system. In one click, convert your job into an invoice
From cash to bank deposits, give your customer the ability to choose their preferred method of payment
Customize your invoices to better fit your brand identity
Visualize the status of your invoices and determine the payout rate of your work orders
Keep all job-specific documents organized in one place. Let your client sign off on every stage of the project.
In-app document management lets your team attach project images on the go.
Archive documents and completed work orders for future reference
Employee & Contractor Management
Track workers' availability when scheduling a job
Add custom tags based on worker's speciality, skills, languages… you're in complete control!
Check and approve worker's time off requests
Track employee work load through the dashboard
Time tracking feature included in the worker's mobile app
💡 Got another feature you want to see? Just let us know and you will see it in the nearest future!
Dedicated Customer Portal for your new and existing clientele. It's FREE for them, but the features are limited compared to the "Service provider" portal.
Customer can track the progress on all their open requests, quotes, invoices, and job status.
Online chat can be conveniently used to request more questions regarding the request.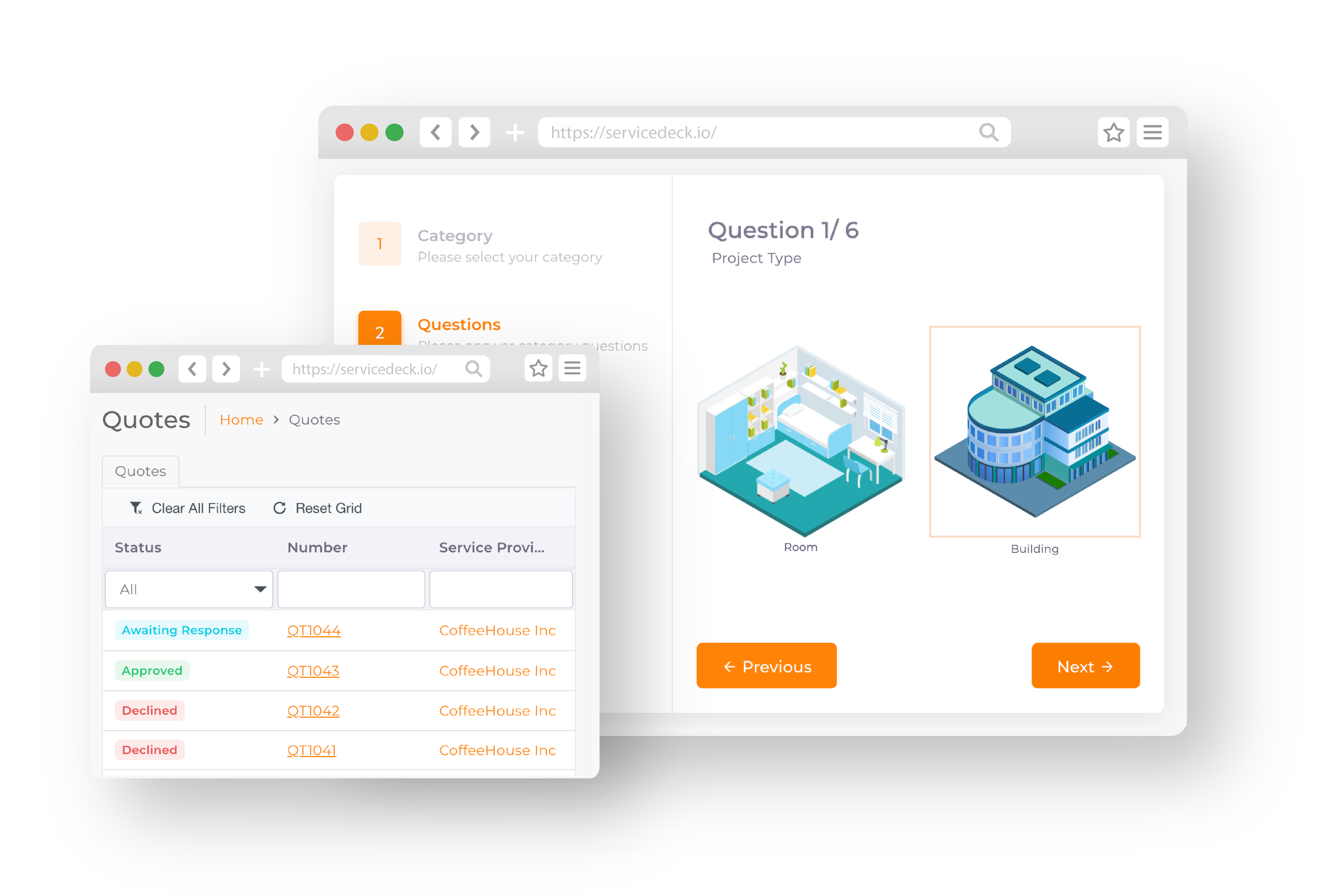 Connect to your on-field workers through our mobile app. Get access to their live location, work history, and project status.
The worker can see all scheduled jobs and update their status ones on-field.
Through the app, worker can request time off, log their work, and attach any images or notes.
While on-field, your employees can request any additional resources needed for the job to be completed.
AI-Powered marketplace tailored to your business
Instant access to new markets, clients and projects
Data-driven Business Directory for public reviews and ratings
Database of Service Providers for efficient outsourcing
Benefits you get by using ServiceDeck
Our Clients Absolutely Adore ServiceDeck
We take care of our customers! From product training to individual customizations – we do it all!
ServiceDeck has improved our invoicing and quotation processes significantly. The combination of tools provided by them is sufficient for SMBs to improve the operations by 20–50%. In addition to that, knowledge and friendly customer support makes the overall experience seamless! Highly recommend ServiceDeck to any business that wants to see a significant improvement in their field service management"

Olia S

Co-Owner, CleanRight
Our productivity has noticably gone up since implementing the platform. We are now able to dedicate more time on our products while having the peace of mind that our customer experience has improved.

Ross V

Project Manager, IT Action Group
ServiceDeck has enhanced our user experience and allowed us to move faster than ever and our company is now positioned to scale.

Jack Graham

Owner, A2Z Moving
ServiceDeck has transformed our field service operations. The job scheduling and dispatch feature has made it so much easier to manage our technicians, and the inventory management tools have helped us keep our costs down. I highly recommend this software to any field service company.

Zaza

Owner, Urban Plumbing
Submit a quick online form to be connected with our specialist.
Schedule one-on-one call to meet you dedicated account manager

Get started with a Free 1 Month trial (no credit card required)

Get step by step instructions on how to use the portal for your business success
💡 Prefer a quick call: Click the button below and get in touch with us instantly!
Schedule Your Free Demo Now!